Recently, I was asked how living in Spain has influenced my writing. Thinking about it, I realised it isn't only being in Spain that has affected my fiction, it's all the other places I've lived, studied and worked in as well. Setting aside my time at an American university in what now feels like a previous existence, the cumulative effect is that I have been Latinized. I'm still old-fashioned British at heart, but with something of a Latin outlook.
From my desk here in the Province of Málaga I can see the Sierra de Las Nieves. This was where the Moors of Al-Ándalus used to harvest snow to be collected in summer for sherbet and to keep medicines cool. To the right out of a large picture window is the bandalero country of The Empress Emerald; to the left, beyond  mauve-shaded mountains, are ancient fishing villages now known as the Costa del Sol, but once prey to the Barbary corsairs featured in The Chosen Man Trilogy.
On warm days with the window open, there's that special Mediterranean dry-earth, peppery smell described so well by Laurie Lee in his Spanish memoirs. Today, I can hear a kestrel screaming at her mate from our roof terrace. This view, as you may imagine, is very conducive to creative time travel. If I ignore a nearby road, I can be back in any century I choose.
The Empress Emerald, includes the story of Davina, a naive English girl who leaves Cornwall to live in Jerez during the 1920s. People say a debut novel is always autobiographical, this one certainly isn't, but some scenes were developed out of my first encounter with my husband's traditional Andaluz home. This is how I fictionalised it:
They turned a corner into a street of tall grey buildings that appeared to grow out of one another. There was no green save the painted railings of high, narrow balconies. It felt austere, grim, closed in.

The driver stopped the car outside two vast doors, blackened with age and reinforced with iron. They reminded Davina of an illustration in one of her childhood picture-books, Bluebeard's castle. As if by some sinister magic, a door swung open. Alfonso ushered her into a fern-infested patio. It smelt dank and uninviting. She looked up and around her. The patio was open to the sky, but on all four sides above there were windows. She sensed watching eyes and lowered her gaze.
Before coming to Spain I lived on the Ligurian coast of Italy – hence Ludo da Portovenere in The Chosen Man. The Genoese coastline and the Cinque Terre often crept into Ludo's narrative – these historical thrillers could so easily have turned into travel brochures.
Portovenere, or Porto Venere, was once the site of a Roman temple to Venus: the perfect romantic location to conclude Ludo's story in By Force of Circumstance.
It's a tourist souvenir destination these days, but through my picture window I could easily visualise it in the 17th century.
Reviewers comment that my books are 'visual', which is probably due to my exile's eye. I'm not a tourist, but I don't belong either. This was evident when we were posted to the Hague (my husband is a Spanish naval officer). The Dutch way of life was not so different to my English upbringing, the flat, grey landscapes and shut-indoors domesticity, however, came to me after years of a Latin lifestyle. Seeing Holland from this point of view helped when I was writing the first Ludo story, his comments on the rain in Amsterdam come from a Latin heart:
Ludo wove his way listlessly through the crowds, his lack of purpose at odds with the activity around him. Amsterdam teemed with people the way it teemed with rain: quiet, persistent, always there. Not like the tremendous skin-soaking downpours in Liguria that gave way to bright sunshine. The weather in Italy had a sense of drama.
Being a permanent exile can lead to rose-tinted nostalgia of course. Something I exploit in my Bob Robbins Home Front Mysteries, but only to a certain extent. If you've ever seen a derelict farm (Private Lives) or been on bleak moorland in a tearing wind, which is how Courting Danger begins,  you'll understand that.
Despite my somewhat Latinized outlook, though, what I see through my Spanish  picture window when I am at my desk in Málaga is still with a realistic Englishwoman's eyes.
Mostly. . .
Good books for summer reads 
If, like me, you enjoy novels that takes you into the past and/or far away,  check out the excellent Bristish historical fiction author, Deborah Swift. She has a new novel set in 17th century Italy out now, too.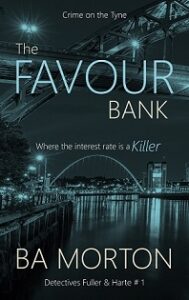 If you enjoy gritty, contemporary British police crime fiction, try B.A.  Morton's frightening, heart-rending 'Crime on the Tyne'.
http://mybook.to/thefavourbank 
You can find me and more about my books on the following sites:
Web page:  https://www.jgharlond.com
Blog – Reading & Writing: https://wp-harlond.jgharlond.com/
Facebook author page: https://www.facebook.com/JaneGHarlond
Twitter: https://twitter.com/JaneGHarlond
My books: https://www.amazon.com/J.-G.-Harlond/e/B007PDA1Z4