Interview with Tony Riches, author of 'HENRY'
Book Three of The Tudor Trilogy
My guest today is Tudor specialist Tony Riches, author of the best-selling Tudor Trilogy.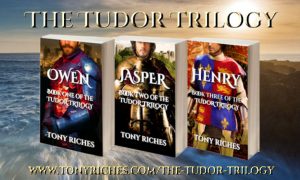 Tony, where did the idea for writing the Tudor trilogy come from?
I began looking into the life of Owen Tudor, the Welsh servant who married a queen, and was surprised to discover his amazing story. As my research progressed I began to collect fascinating details of the lives of Owen's sons, Edmund and Jasper. I realised that if I planned it as a trilogy, Henry Tudor would be born in the first book, come of age in the second and become King of England in the final book.
 Why do you think this is the first full-length novel about Henry Tudor?
Everyone from Shakespeare to Alison Weir has written about Henry, but this trilogy is the first time his full story has been told through historical fiction. Even at the Bosworth re-enactment you would hardly believe Henry was victorious, as 'Ricardians' outnumber Tudor supporters by more than ten to one. Schools and TV historians can't wait to get on to Henry VIII and his six wives, and Henry has too often been dismissed as the 'miserly' king. The truth is, as so often the case, far more complex and his story deserves to be told.
 What surprised you about the 'real' Henry Tudor?
Far from being 'miserly' I found Henry loved gambling with cards and dice and lost huge sums more often than he won. He also kept detailed records of who he'd played against (which included his wife, Elizabeth of York) and how much he'd lost. As well as lions and other dangerous animals, which he kept at the Tower of London, he kept a pet monkey, thought to be a marmoset, in his private chambers. (One day he discovered it had torn up his detailed diary, so there is a gap in his meticulous records.) I'm certain he loved Elizabeth of York but when the pretender Perkin Warbeck was finally captured, Henry was so enamoured of Warbeck's wife, Lady Katheryn Gordon, he kept them both in his household – but wouldn't let them sleep together. He also bought Lady Katheryn expensive dresses and she became a close companion and confidante, even after Henry had her husband executed!
 What did you find most difficult about the research for this book?
Henry escaped to exile in Brittany at the age of fourteen and remained there until he sailed to take the throne with his invasion fleet at the age of twenty-eight. I struggled to understand how he spent those formative years (often described as 'uneventful') so decided to follow in his footsteps, all the way from Pembroke Castle to the remote Forteresse de Largoët, deep in the forest outside the town of Elven in Brittany.
Amazingly, I was able to climb the Dungeon Tower through a dark high stairway lit only by small window openings. Henry Tudor's rooms were full of cobwebs and signs in French warned of a danger of falling masonry, but this first hand research really helped me understand what Henry's life there might have been like. Although it was called the 'dungeon tower', in subsequent research I discovered intriguing details at the National Library of Wales which suggest Henry Tudor enjoyed more freedom at this time than is generally imagined. The papers claim that, 'by a Breton lady', Henry Tudor fathered a son, Roland Velville, whom he knighted after coming to the throne.
 What will you write next, now you've completed the Tudor trilogy?
I've moved on one generation of Tudors for each of the past three years, so thought it would be interesting to write about the life of Henry's daughter Mary Tudor. Reputed to be a great beauty, Mary was only eighteen when she became Queen of France, married off by her brother Henry VIII to the fifty-two-year-old King Louis XII. I'm also looking forward to writing about her womanising second husband, one of the last true Tudor knights and Henry VIII's lifelong friend, Charles Brandon. The Tudor trilogy may be completed – but the story of the Tudors continues!
About the Author
Tony Riches is a full time author of best-selling historical fiction. He lives in Pembrokeshire, West Wales, with his wife and is a specialist in the fifteenth century, with a particular interest in the Wars of the Roses and the lives of the early Tudors. For more information about Tony's other books please visit his website tonyriches.com and his popular blog, The Writing Desk and find him on Facebook and Twitter @tonyriches.
Tony Riches' books can be found on: Amazon UK  Amazon US and Amazon AU