Writing about shying, bolting, and unfortunate equine accidents
As prey animals, instinct tells equines to run at a whiff of danger. They shy at what we may consider to be imaginary objects, this is because their eyes can detect movements to the side of them, which we do not see, and their ears can pick up signals we do not hear.
The moment the horse decides to take off to get away from a perceived threat, it lowers its rump to get a power start from the hind legs. (Watch the start of a horse race and you'll see what I mean.) In a hist-fic story, this can result in a pillion rider sliding straight off. The next action is for the horse to lower its head and stretch out its neck, meaning a rider taken unawares will be pitched forward, assuming the frightened animal doesn't swerve off to one side, in which case the rider hits the ground hard.
Riders can be jolted out of a saddle and if they are not careful a foot can be caught in a stirrup, meaning they will get dragged and possibly kicked as well. A friend of mine became deaf due to an accident like this on hard terrain.
More often, though, with a bolting horse, the rider is pitched forward onto the horse's neck, which sends the creature into an even greater frenzy. From this moment it may gallop flat out with no heed to trees, traffic or other hazards. The rider struggling to stay on will grab for the mane, but this pinching action on the horse's neck is like a wolf's jaws and quite literally anything can happen after that.
Even placid ponies have crazy moments. Trotting along an open stretch of countryside a dog shoots out of nowhere, the startled pony drops its hind-quarters to canter away or turns too fast and child or cart and cargo get tipped in the process. Dragging an over-turned cart will make the pony even more hysterical. That sort of thing happens. In real life, freak, silly accidents cause the most damage, but this sort of incident will have to be used with care in fiction so it does not look over-contrived.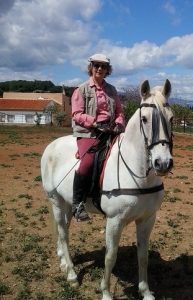 The fallen horse
Horses stumble and slip on loose pebbles and rough terrain. They get stones lodged into their hooves making them go lame and forcing a rider to dismount to remove the stone. The bigger danger here is that if a horse slips badly and goes down the rider can become trapped underneath its body. I've seen and been in this sort of accident.
When a horse goes down, it may lie still for what seems an age while it gets its senses back then will scramble to its feet, fore-legs first. Horses generally avoid stepping on a living creature knowingly (except rats & snakes), but in this situation the rider on the ground is in danger of getting an iron-shod hoof pressed down on shoulder or head. My husband was in an accident when his 17 hand mare slipped backwards into a deep ditch trapping him in the saddle underneath her. After lying still for sufficient time to make me think they were both dead, she finally started to right herself. Eventually she scrambled out, and I managed to get down to see if my husband was still alive. He was, but very battered with various broken ribs, but his horse had done what she could to avoid trampling him. The ditch was full of dead brambles and undergrowth, which made getting out more difficult, but probably saved my husband's life A very scary accident.